Tonya Amos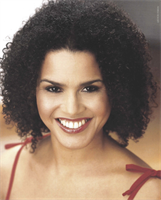 Tonya Marie Amos, owner and operator of Aspire, was raised in San Francisco and received a B.A. in cultural anthropology from U.C. Berkeley. She began her movement career as a competitive gymnast under Russian coaches, and then danced professionally for fifteen years in New York City. She has appeared with the Alvin Ailey American Dance Theater and Donald Byrd, was a member of the Cleo Parker Robinson Dance Ensemble, Footprints Ensemble, and Amy Pivar Dances, performed in the International Tour of "West Side Story", the National Tour of "Sesame St. Live", and Sacramento Music Circus' "The King and I". She was introduced to Pilates over twenty five years ago as a young dancer, not realizing that her "Floor Barre" classes and post-injury rehabilitation were actually Pilates classes. Like thousands of other dancers initially introduced to Pilates after an injury or surgery, Tonya discovered that with Pilates training, she returned to rehearsals stronger than before her injury.Tonya received her Pilates training at Turning Point Studios in Walnut Creek, CA and is fully certified to teach mat, apparatus, and post-rehabilitation Pilates. She has over eight hundred hours of training, including her Teacher Training and Advanced Certifications in subjects such as Movement Medicine, Scoliosis, Osteoporosis, Pre/Post Natal and Pilates For Golf. She attends conferences several times a year to further advance her studies with special populations.Tonya has a genuine love of helping to empower people to understand how their bodies work, and gives special attention to safety and individual accomplishment. Her clients include a broad range of fitness levels and she truly enjoys the diversity of people's experiences.
Tonya Amos instructs the following:
Continue to transform your body in this fun and challenging instructor-led class. You will benefit from working on many of the machines that Joseph and Clara Pilates created to work the body — Reformer, Trapeze Table, Combo Chair, Spine Corrector, Pilates Arc, Roller Discs, Wobble Board, and others. Much of these machines are used in our Private Sessions, but you are able to benefit from this diverse work in a small group. This class has a strong focus on balance improvement. If you can't stand on one foot with your eyes closed for 10 seconds, you need this class! Tonya says this is the most important class in the studio. Size is limited to 8 students. Ongoing weekly classes allow you to attend classes that work with your schedule. Prerequisite: Foundation, Privates or Instructor Permission. Photo Credit: Antone N., Northern California Golden Gloves Boxer & Martial Artist, Aspire Client.